Transforming the industry through business events
As the leading organization for business event professionals, PCMA offers a wide variety of opportunities to help you connect with industry leaders, showcase your products and services, and gain valuable brand exposure to our premier audience.
Through our annual partnerships, event sponsorships, and custom advertising and content campaigns, your brand has the opportunity to educate, inspire, and creating meaningful experiences where passion, purpose and commerce come together.
Ways to activate with PCMA
Learn about the different ways your brand can engage and activate with PCMA:
ANNUAL PARTNERSHIPS: Our partnership program offers an ongoing and meaningful collaboration between your organization and PCMA. We work with each partner to understand your goals and then tailor an annual program to help those objectives. Each customized partnership includes marketing benefits across the PCMA's portfolio of face-to-face events, thought leadership platforms and member programs. Through this exposure, partners have extended access to the PCMA community of decision-makers. View our Partners.
EVENT SPONSORSHIPS: Work with PCMA to identify which events in our portfolio are the right fit for your brand. We offer a variety of sponsorship opportunities ranging from brand exposure, networking with key audience, thought leadership development and lead generation. Request info on our event sponsorships.
CUSTOM ADVERTISING & CONTENT CAMPAIGNS: Discover the range of digital and print advertising and content opportunities available with Convene Magazine. Convene is the leading publication for business event professionals, providing insights, best practices, and innovative ideas to readers around the world. We'll help you develop tailored content and advertising campaigns that speak directly to our highly engaged audience of decision-makers and industry leaders, positioning your brand as a thought leader in the business events space. View media kit below.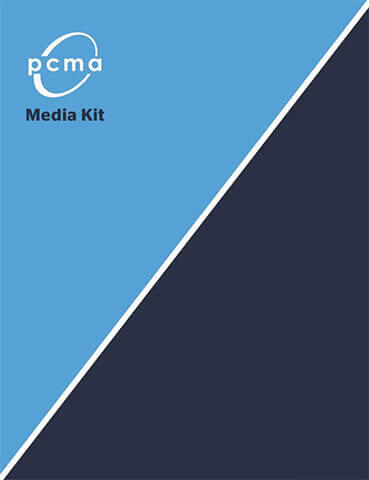 Current rates & opportunities
Complete the form below to download a complete copy of our Integrated Advertising Overview with our latest pricing structure and partnership opportunities.
Pieces for the perfect campaign
PCMA's audience
With a membership of 7,000 professionals and students and a global audience of over 100,000 business event stakeholders, PCMA has influence in Europe, the Middle East and Asia. We have 17 chapters throughout the United States, Canada and Mexico with members in more than 40 countries and regional offices in Ireland, Australia and Singapore. PCMA's award-winning publication, Convene Magazine has 36,000+ subscribers and a 34-year history.
Convene Magazine Subscribers
68% have at least a decade of industry experience
78% identify as key decision-makers in their roles
Get started
Our Business Development Directors can help you reach the right audience at the right time. Contact us to start planning your campaign or partnership today.
Success stories
From Our Partners
From Our Partners
How Connection and Hospitality Is Inspiring Calgary's New BMO Centre
From Our Partners
From Our Partners